Comunicare verbindt de patiënt en zijn zorgteam.
Eén platform,
meerdere interfaces
Platform Het platform verzamelt informatie van het ziekenhuis naar de patiënt en verzamelt de gerapporteerde resultaten van de patiënt. De belangrijkste innovatie van Comunicare is de personalisatie van patiëntinformatie volgens zijn specifieke zorgtraject en het maakt een slimme interactie tussen de patiënt en zijn zorgverleners mogelijk.
Patiënt
Mobiele applicatie
De mobiele applicatie informeert de patiënt over zijn zorgtraject, vergemakkelijkt zijn therapeutische hechting en de communicatie van uitkomsten naar het medische team. De applicatie biedt toegang tot verschillende informatie-items:
Een gepersonaliseerde tijdlijn die de behandelingsstappen en zorgactiviteiten samenvat
Praktische kennis van de therapie
Didactische videoclips
Beschrijving van mogelijke bijwerkingen en aanbevelingen
Zorgverleners
Dashboard
Comunicare verzamelt veel patiëntgegevens, zowel fysieke als emotionele parameters en symptomen, om zorgverleners te helpen potentiële risicosituaties te voorkomen.
De zorgverleners krijgen een dashboard om de gerapporteerde resultaten van de patiënt te bekijken en te volgen.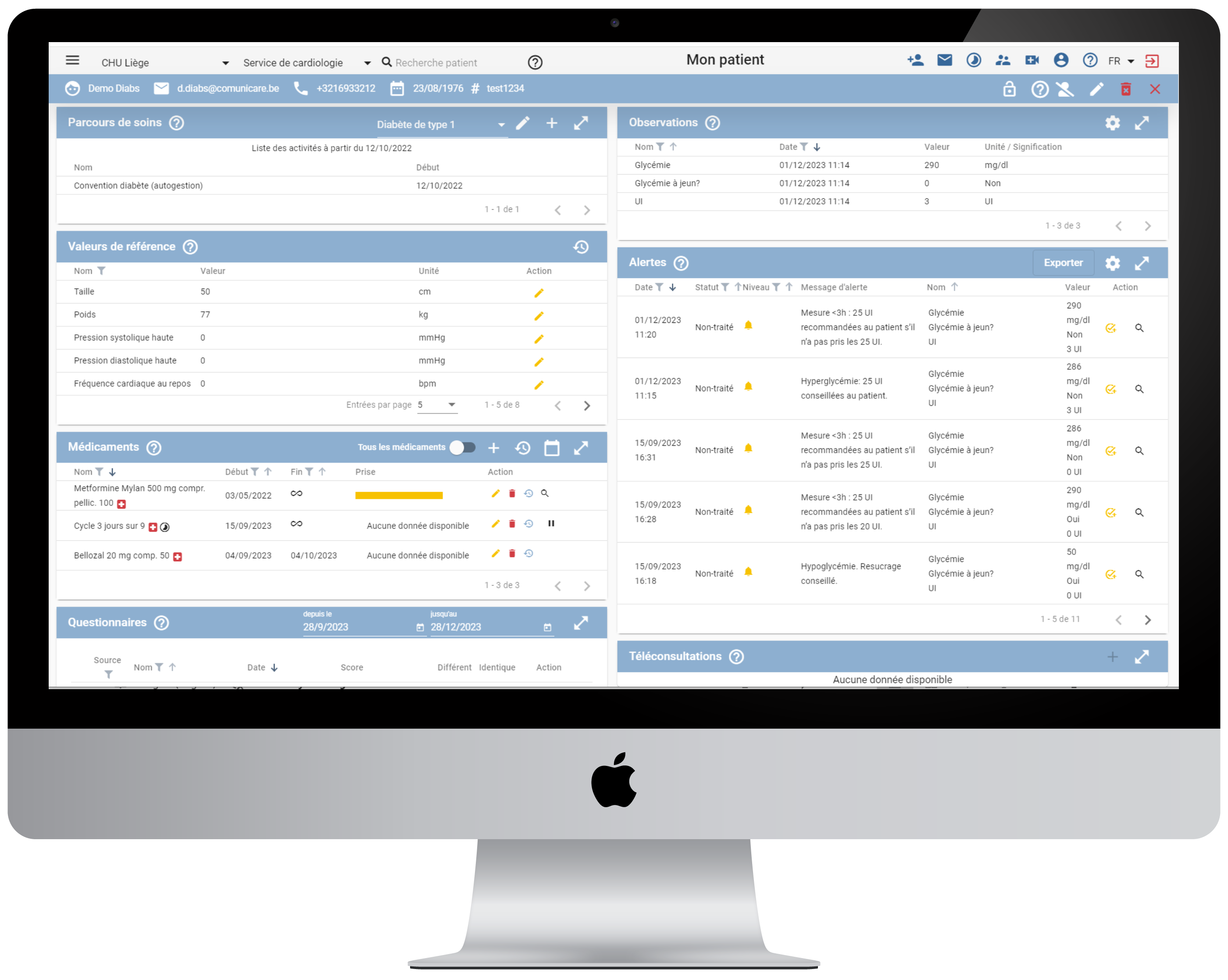 Entourage
Familieleden van de patiënt (mantelzorgers) en andere gezondheidswerkers kunnen ook bij het behandelingsproces worden betrokken. De mobiele applicatie is veelzijdig en laat de patiënt wat informatie delen met zijn omgeving. Dankzij de nationale gezondheidscentra kunnen andere zorgverleners ook toegang krijgen tot specifieke gegevens die door de patiënt worden gedeeld.
De applicatie richt zich op het monitoren van chronische ziekten. Het platform is uitgebreid met nieuwe pathologieën naarmate het verder wordt ontwikkeld.
COMUNICARE has been choosen for ONCOCARE
Ethias, 28/11/2019

COMUNICARE has been chosen as the mobile application and platform of the ONCOCARE project's PROM action.
Oncocare Project is an Interreg project that aims at improving oncological care in the Euregio Meuse-Rhine. This project involves the University Hospital of Liège, the University Hospital of the Aachen, and the Maastricht University Medical Center.
A major topic of Oncocare focuses on innovation and the strengthening of patient-centered medicine. This axis aims at implementing tools for improving evidence-based yet personalized decision making, incorporating patient-reported outcome measurements, and bringing the hospital to the patients' homes.
Cet axe vise à mettre en œuvre des outils pour améliorer la prise de décision fondée sur des preuves mais personnalisée, incorporer des mesures du ressenti reporté par les patients et amener l'hôpital au domicile des patients.
The quality of care assessment therefore includes "Patient-Reported Outcome Measurement" (PROM), a direct measure of added value for the patient rarely evaluated in clinical practice.
The aim of Comunicare is to collect results reported by patients in a standardized and validated way with an automatic transfer to the electronic patient record. A study of the impact of therapeutic decisions on PROM in 2 selected representative malignant tumors will be conducted to analyze their potential advantages and disadvantages as experienced by the patient.
Comunicare at the Digiself2018 Symposium in Bern
08/02/2018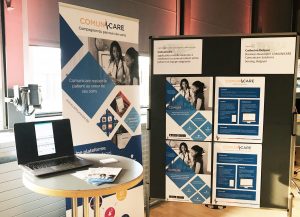 Comunicare, the digital « Care Companion »  was present at the Digiself2018 Symposium held on February 8th 2018 in Bern (Switzerland).
During this symposium, various speakers underlined the importance of the digital tools such as Comunicare to enable patient reported outcomes in clinical follow-up and research, but also to improve patient implication and self-efficacy. Thanks to a better management of side effects and symptoms, these tools help to improve the quality of treatments and increase survival rates in cancer therapy.
"Comunicare : a solution that reinstates the patient at the heart of his treatment"
Le journal du médecin, March 2017.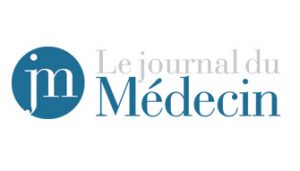 Comunicare is a project developed by the company Xelink on the initiative of Alfred Attipoe, informal care giver, with the support of the University Hospital of Liège. The project aims to develop an mobile application and a platform for the communicationn between patients and care givers in the context of chronic diseases, such as cancer as a first use case.
Comunicare was introduced to King Philippe during a roundtable on the digital transition
RTBF, May 2017.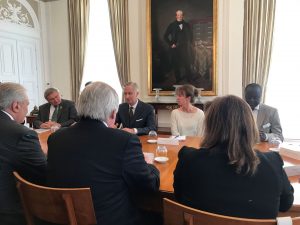 For the two-hundredth anniversary of the arrival of John Cockerill and of the establishment of CMI (Cockerill Maintenance et Ingénierie) Group in Seraing, King Philippe visited a commemorative exhibition on Cockerill's industrial saga and chaired a roundtable panel on the digital transition of Belgian industry. On this occasion, Alfred Attipoe had the opportunity present Comunicare to King Philippe, as a demonstration of one example of the digital transition in the region of Liège.
.
"One Hour Challenge"
La Libre Belgique, 17/11/2017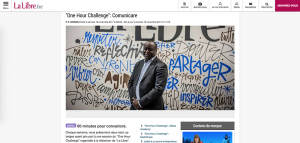 Every week, La Libre Belgique (a Belgian newspaper) introduces two Belgian startups having been involved in a session of the "One Hour Challenge". Portrait of Comunicare, and feedbacks of a professional coach (Ben Piquard, CEO of LeanSquare, or Roald Sieberath, "venture partner" at LeanSquare) and of a BNP Paribas Fortis's expert (Benjamin Vasseur, Innovation Hubs Advisor – bank for entrepreneurs) are published.